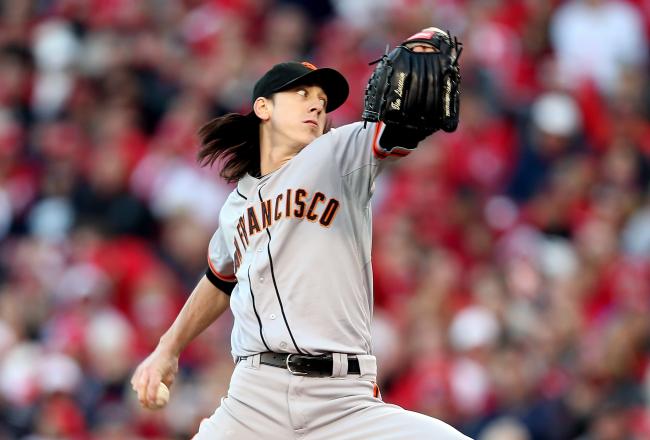 Two disheartening losses at home in games 1 and 2 of the NLDS were not a good sign of things to come—and history said a comeback was impossible. So what did the Giants do? Come back from a 2-0 deficit to win three games on the road. It was historic. It was a magical performance that reinvigorated the Giants organization as well as their fan base.
The NLDS was eerily reminiscent of the 2004 ALCS when the Boston Red Sox came roaring back from a 3-0 deficit of their own in what was the
greatest comeback in sports history
. (Okay maybe the Giants comeback was not quite of
that
magnitude, but you get the idea.)
While it should be clear that manager Bruce Bochy will choose what is best for the Giants, as he has always done, here are my thoughts of what the NLCS starting rotation should look like (something quite different from my
original thoughts
of their playoff pitching). This is a question that largely comes down to the use of five starters that have been inconsistent and, for 80 percent of them, under-performing. Yet that only matters so much because the potential for greatness has already been seen on the mound from each starter.
First, and most importantly should be a consideration of when each pitcher threw in the NLDS and this chart gives you a succinct look at that:
| | | | |
| --- | --- | --- | --- |
| | Pitcher | Innings pitched | Earned runs |
| Game 1 | Matt Cain | 5 | 3 |
| Game 2 | Madison Bumgarner | 4.1 | 4 |
| Game 2 | Tim Lincecum | 2 | 0 |
| Game 3 | Ryan Vogelsong | 5 | 1 |
| Game 4 | Barry Zito | 2.2 | 2 |
| Game 4 | Tim Lincecum | 4.1 | 1 |
| Game 5 | Matt Cain | 5.2 | 3 |

Of course, Matt Cain cannot pitch on Sunday's opener. But is that really a bad thing? Definitely not. If Cain pitches in Game 3, then he would be pitching on full rest in a Game 7 situation, which would be ideal. Regardless of the fact that he struggled mightily in his two games in the NLDS, Cain is a workhorse and has earned the right to be the primary focal point of the pitching staff in the decline of Tim Lincecum.
You might say what decline of Tim Lincecum? Certainly his two performances in the NLDS earned him the right to return to the starting rotation! While that may be true, the reality is that he may be more valuable to the Giants as a long reliever and a Zito-buffer. If Lincecum comes out of the bullpen, the Giants have flexibility on which games to use him. Compare that to Bochy giving the ball to Lincecum as a starter—a situation where all flexibility is lost. Presumably the games in which Cain pitches the Giants would go to their traditional bullpen pitchers where
Bochy is a master at mixing and matching
based on matchups and who is pitching well. Also, a Zito-Lincecum game gives Posey the game off at catcher.
The other starters have been a toss-up. Since it comes down to it, Vogelsong was the only pitcher other than Cain to make it to 5 IP so the Giants should have no problem moving him up to a Game 1 or Game 2 start. However, they should be hesitant to give Vogelsong the Game 1 start because he or Lincecum could be used out of the bullpen if necessary—possibly paving a way for Lincecum into the starting rotation.
Also, Bumgarner has more experience—namely the 2010 World Series championship run. So I would give the Game 1 start to Bumgarner; he gives the Giants the best chance to win after eliminating Lincecum and Cain from consideration (based on what was mentioned in previous paragraphs). If you disagree with the previous paragraph, perhaps giving Lincecum a Game 1 start is feasible and reasonable.
Putting my thoughts into action means the first three games will look like this:
Game 1: Madison Bumgarner
Game 2: Ryan Vogelsong
Game 3: Matt Cain
…Now the tough question: who starts Game 4? You can say Tim Lincecum but the reality is that Barry Zito works. Why? First, the Giants have won all of his past 12 starts. Regardless of how utterly ugly they have been, the end result has been, dare I say…perfect. Second, Lincecum coming out of the 'pen is a great option if things go south quickly. Lincecum is so different from Zito that he will surely disorient the Nationals/Cardinals hitters. Finally, this is the ideal situation for Timmy because he can replicate precisely what worked in the NLDS. Lincecum could relieve in Games 2 and 4…and possibly in Game 7. That is another consideration when trying to maximize the benefits of "The Freak."
If neither NLCS team sweeps the series, games 5 through 7 are all fairly straightforward. A re-hashing of the game 1-3 starters leaves the final three games looking like this:
Game 5: Madison Bumgarner
Game 6: Ryan Vogelsong
Game 7: Matt Cain
Again, there are so many variables to take into account. Which Bumgarner is going to show up? Is 2010 playoff Cain going to be in the NLCS or will it be the one who pitched in the 2012 NLDS? Can Barry Zito pitch more than a couple innings? The list goes on because each of the five regular season starters has questions surrounding him.
The one thing that we have learned from the NLDS is that Lincecum is back in the discussion. Should he start? I say not in the NLCS, but if the Giants make it to the World Series, that argument should (and would) be re-evaluated.
Bochy's decision will probably become apparent shortly. His protection of his pitchers in the NLDS and appropriate use of them all shows that he not only knows what is best for his team but that he also has the trust of his players.
One thing is certain: Bochy's management of the rotation and
closer role
have been nothing short of spectacular, so whomever he puts on the field is for a reason.
…Well probably more than just one reason.
Tweet